One of the best things about a fish sandwich is the variety of toppings and condiments that can be added to enhance the flavor and texture of the fish. From classic tartar sauce to tangy pickles, there are many options to choose from when it comes to customizing a good sandwich.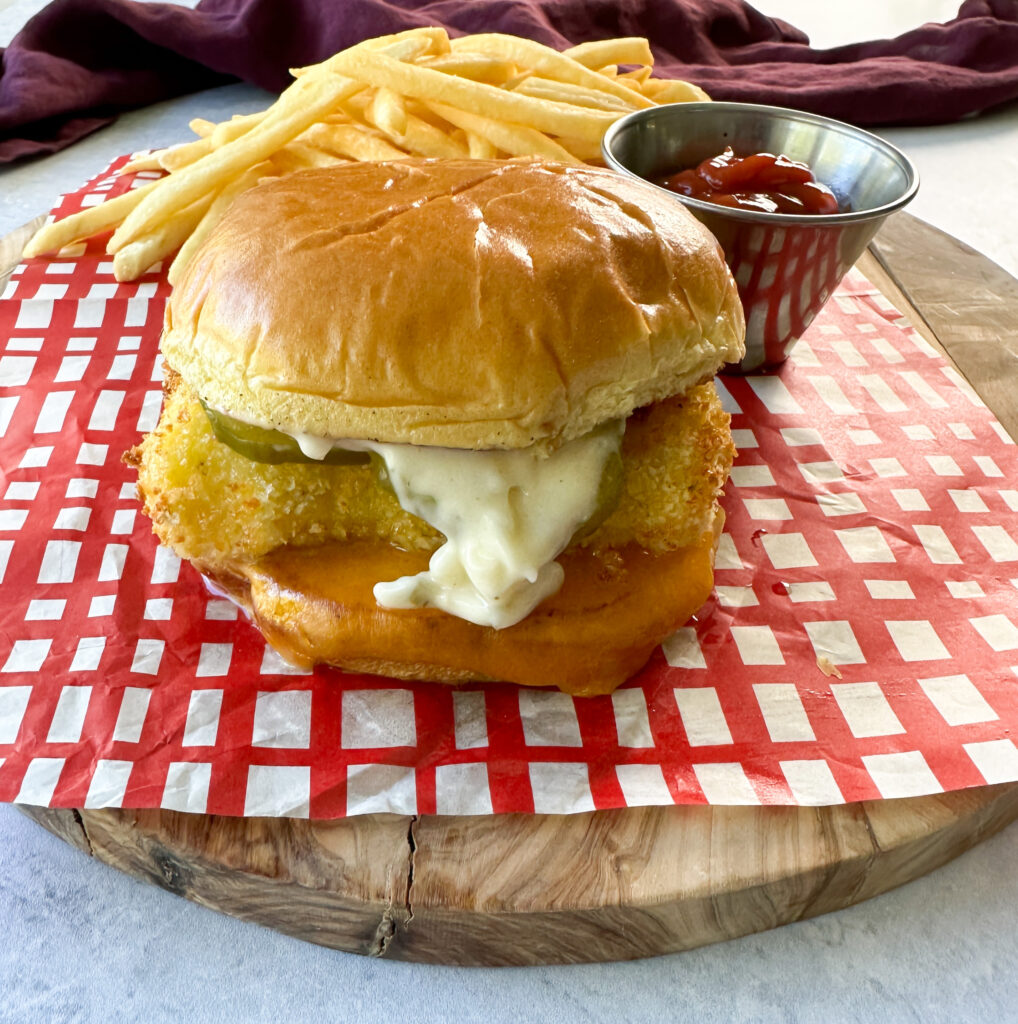 In this post, we will explore some of the best toppings and condiments to put on a fish sandwich to create a delicious and satisfying meal.
Be sure to check out our best recipes: Crispy Fish Sandwich and Air Fryer Fish Sandwich recipes.
There are many different toppings and condiments that can be added to a fish sandwich, depending on personal preference and regional variation.
Should I put cheese on it? We say yes!
Common Toppings
Lettuce or Greens: Adding lettuce or other greens can provide a fresh, crunchy texture.
Tomato: Adding slices of ripe tomato can add a juicy and tangy flavor to the sandwich.
Pickles: Either dill or sweet, can provide a salty and tangy flavor that pairs well with fish.
Tartar Sauce: A classic condiment for fish sandwiches, tartar sauce is typically made from mayonnaise, pickle relish, and lemon juice.
Remoulade Sauce: Similar to tartar sauce, remoulade sauce is a creamy sauce made from mayonnaise, mustard, and various seasonings like paprika, garlic, and hot sauce.
Aioli: This creamy garlic sauce is made from mayonnaise, garlic, and lemon juice and can add a tangy and garlicky flavor to the sandwich.
Coleslaw: Adding coleslaw can add a crunchy texture and a tangy flavor that complements the fish.
Cheese: Adding a slice of cheese, such as cheddar or American, can add a creamy and savory flavor to the sandwich.
Brioche Bun: Buttery flavor.
What Does Wendy's Put on Their Sandwich
Wild-Caught Alaskan Pollock fillet
Crispy panko breading
Lettuce
American cheese
Pickles
Dill tartar sauce
What Pairs Well