These Shrimp Egg Rolls are made with a mixture of diced shrimp, shredded cabbage, carrots, garlic, zesty spices, soy sauce, and sesame oil, and then wrapped and baked or air fried to perfection. This crispy dish can be served as a main dish or appetizer.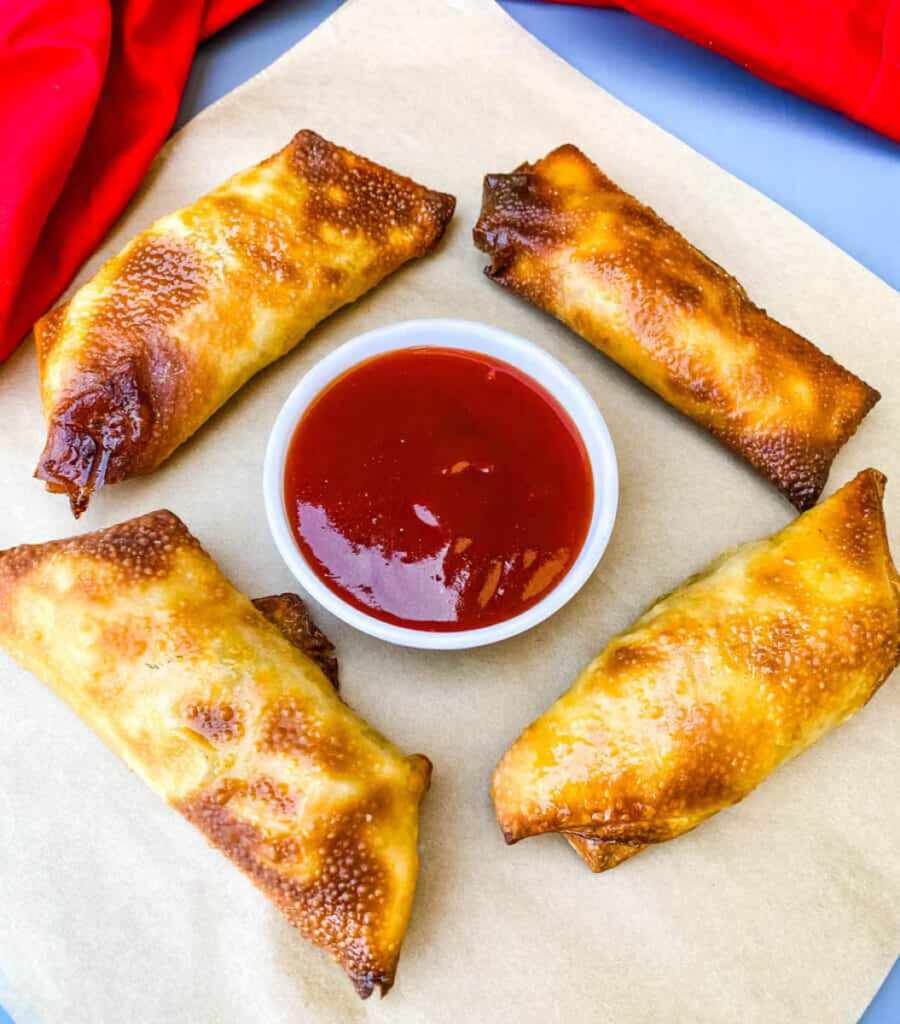 This post contains affiliate links. Please read my full disclosure here.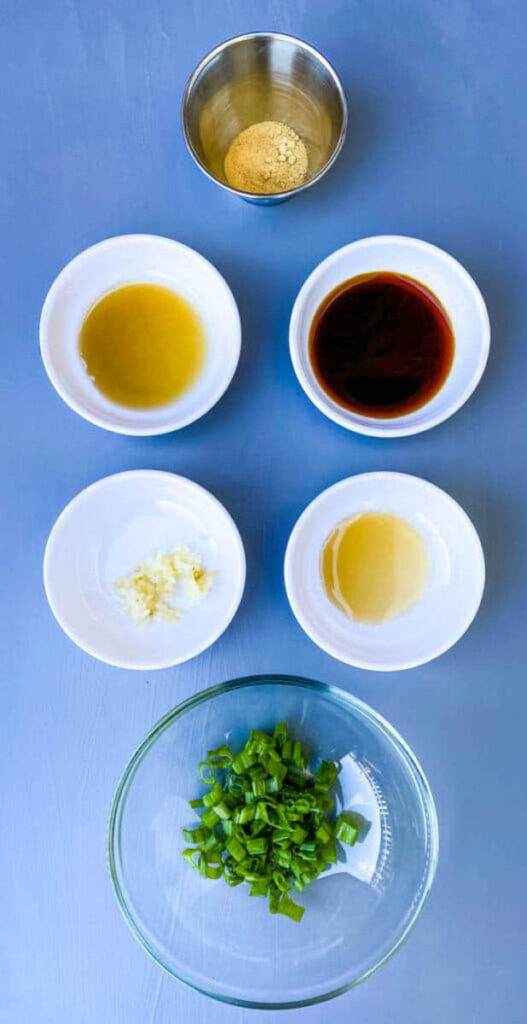 What Type of Shrimp to Use
Shrimp can be found at the grocery store in a few different ways. There is raw, pre-cooked, raw and frozen, deveined, tails on, tails off, etc.
I never use pre-cooked shrimp. There is an obvious difference in taste due to the lack of quality. The shrimp is cooked and then frozen and you have to cook it/warm it up again. This usually overcooks the shrimp. Raw shrimp only takes minutes to make, just buy it raw.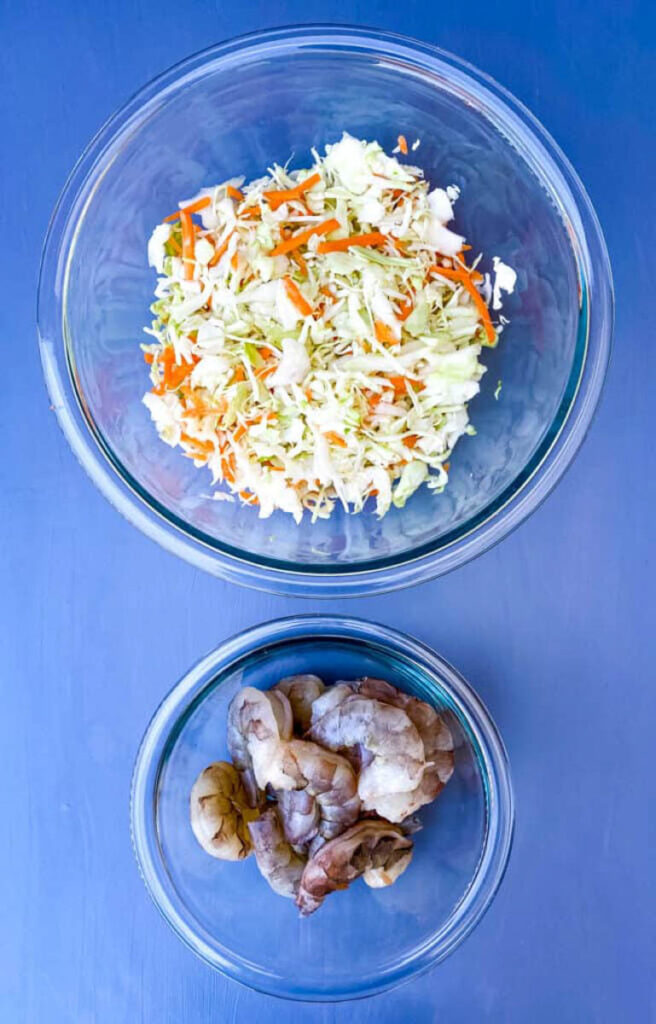 Always look for deveined, that's my preference. The black vein that runs along the back of the shrimp is the digestive intestinal tract. Is this shrimp poop, yes.
You can buy it with the vein and remove it using a sharp paring knife to make a slit along the back and lift out the vein with the tip of the knife.
Check out tips on How to Peel and Devein Shrimp here. Be sure to check out our guides on Shrimp Size Guide and Counts Per Pound and How to Tell if Shrimp is Bad.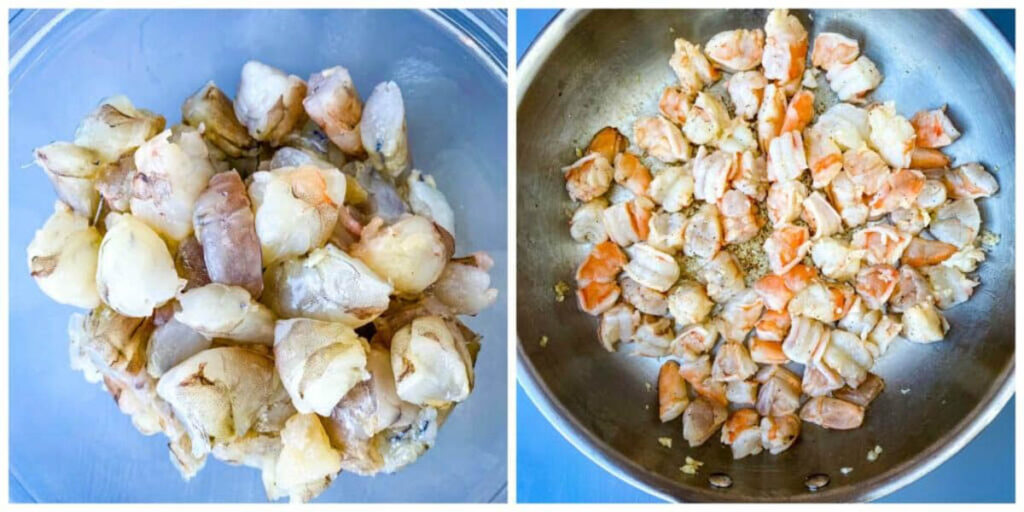 How to Thaw Frozen Shrimp
Place the frozen shrimp in a large bowl of cold water. The shrimp will thaw within minutes and will be ready to peel.
Egg Roll Wrappers
Nasoya wraps work great along with most brands that you can find in an authentic Asian market. I have trouble finding Nasoya at most of the stores in my area. I usually use what they have, which means I have used some pretty flimsy wrappers.
You will know right away when you remove them from the packaging if they are too thin and may require double wrapping.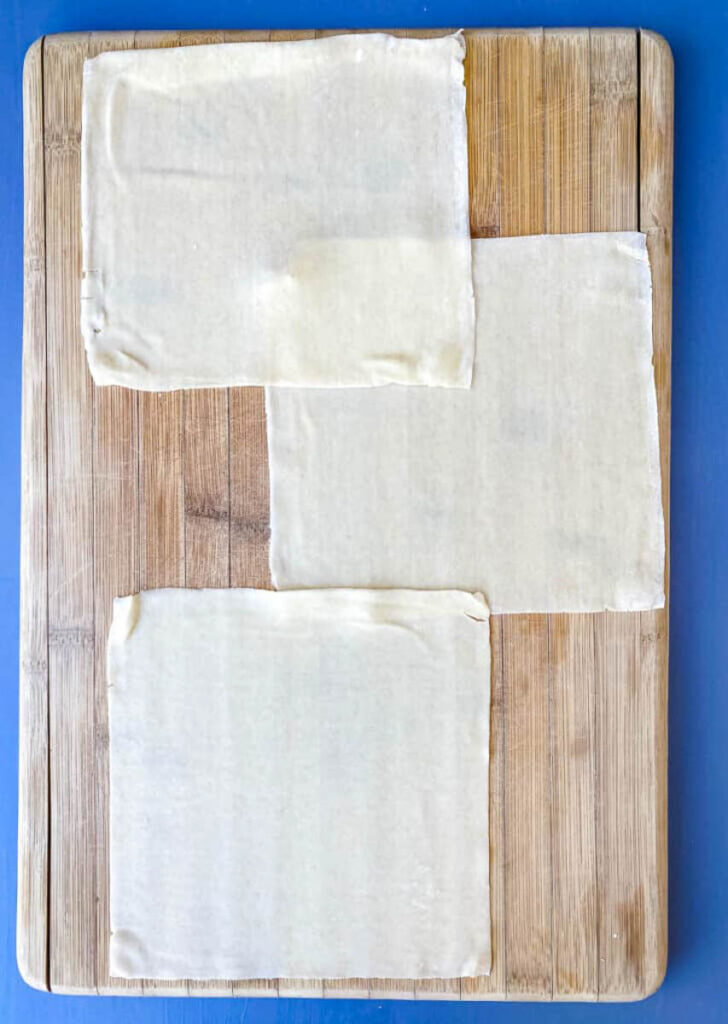 How to Make Shrimp Egg Rolls
Full detailed instructions are below in the recipe card.
Saute shrimp in a skillet along with garlic.
Make the filling using the cooked shrimp and garlic, coleslaw mix, ground ginger, fish sauce, sesame oil, and soy sauce.
Fill and roll the egg roll wrappers.
Bake at 425 degrees for 10-15 minutes.
Air fry at 400 degrees for 10-12 minutes.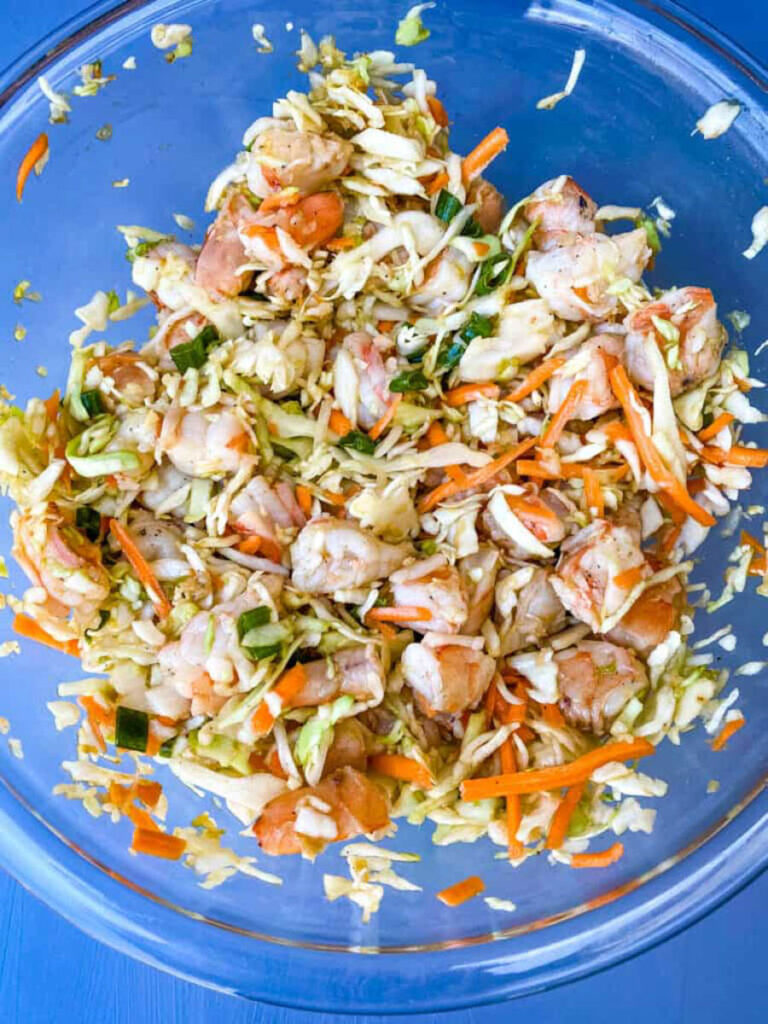 The Best Way to Roll Wrappers
Add 2 tablespoons of filling to the center of the wrapper. Do not overstuff, you will struggle with closing the wrapper.
Seal the wrapper diagonally to form a triangle.
Fold the opposite sides together to form another triangle and then roll to close and seal.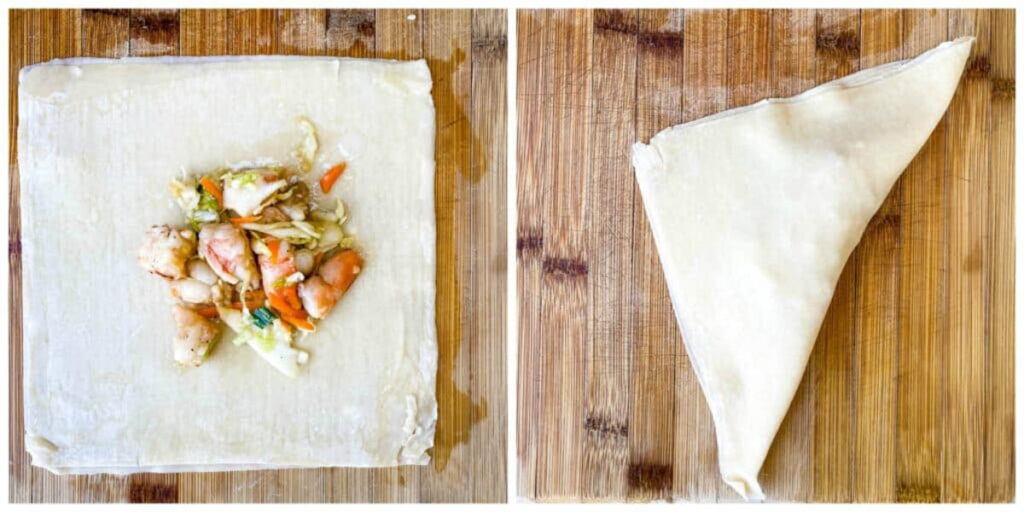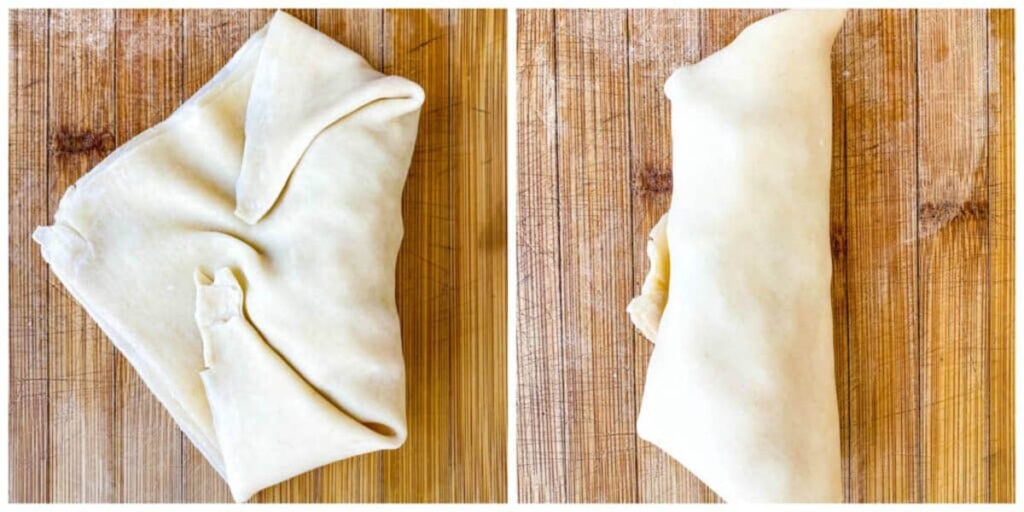 More Ideas for the Filling
Water chestnuts
Crab
Bean sprouts
Ground pork
Mushroom
Bamboo shoots
Ground chicken
Dipping Sauce
The Difference Between Spring Rolls and Egg Rolls
Spring rolls and egg rolls are both types of Asian-inspired rolled appetizers, but they are different.
Spring rolls are made by wrapping a mixture of vegetables and sometimes meat or shrimp in a thin, delicate wrapper made from wheat flour and water. They can be served fried or not fried.
Egg rolls originated in the United States and are made by wrapping a mixture of meat, seafood, or vegetables in a thicker wrapper made from wheat flour, water, and egg. They are often deep-fried until crispy and golden brown. They are typically served as an appetizer or snack and have a heavier, more savory taste than spring rolls.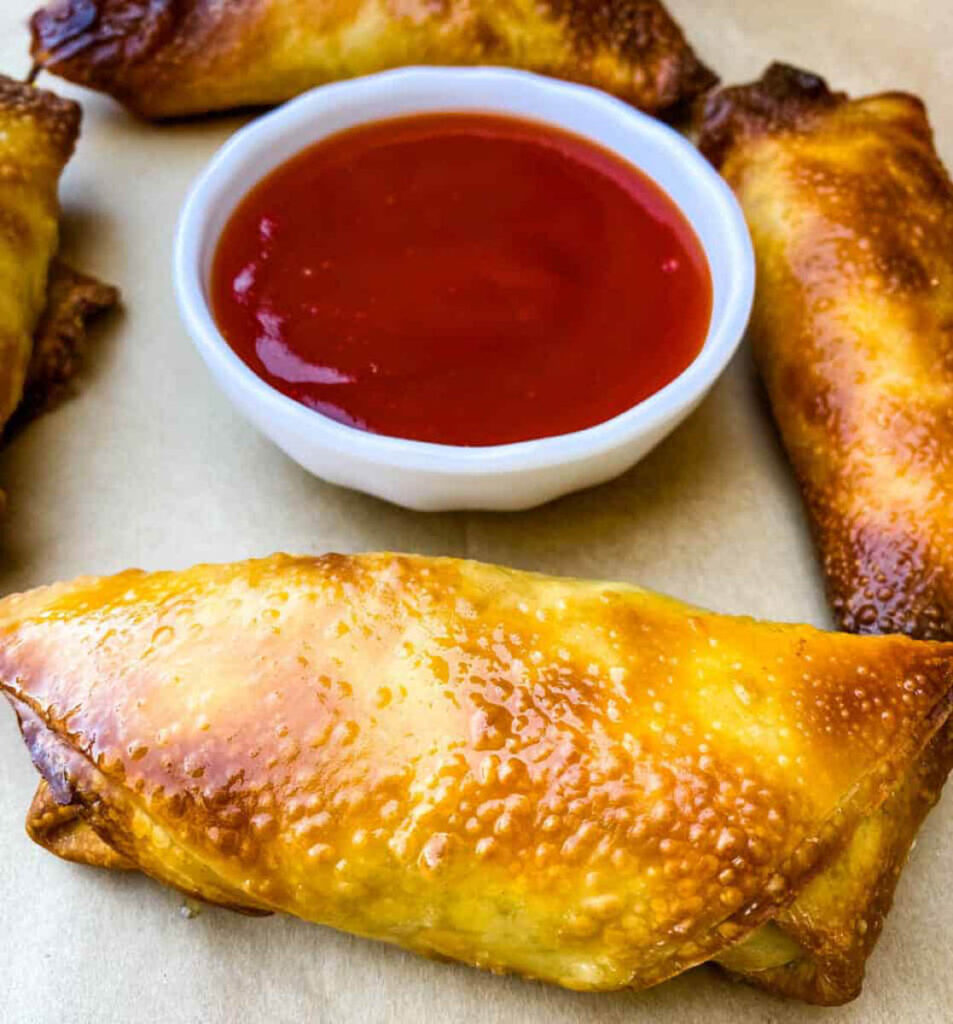 How to Keep the Rolls Crispy
If you have an air fryer, using it is the best way. You can place these in the air fryer or standard oven at 350 degrees for a few minutes will keep them crispy.
How to Freeze
I love to make these in batches and then freeze them for later. Freeze them in sealable bags or containers.
To reheat in the oven reheat the egg rolls at 350 degrees for 5-7 minutes or until heated through.
Reheat in the air fryer at 350 degrees for 5-6 minutes.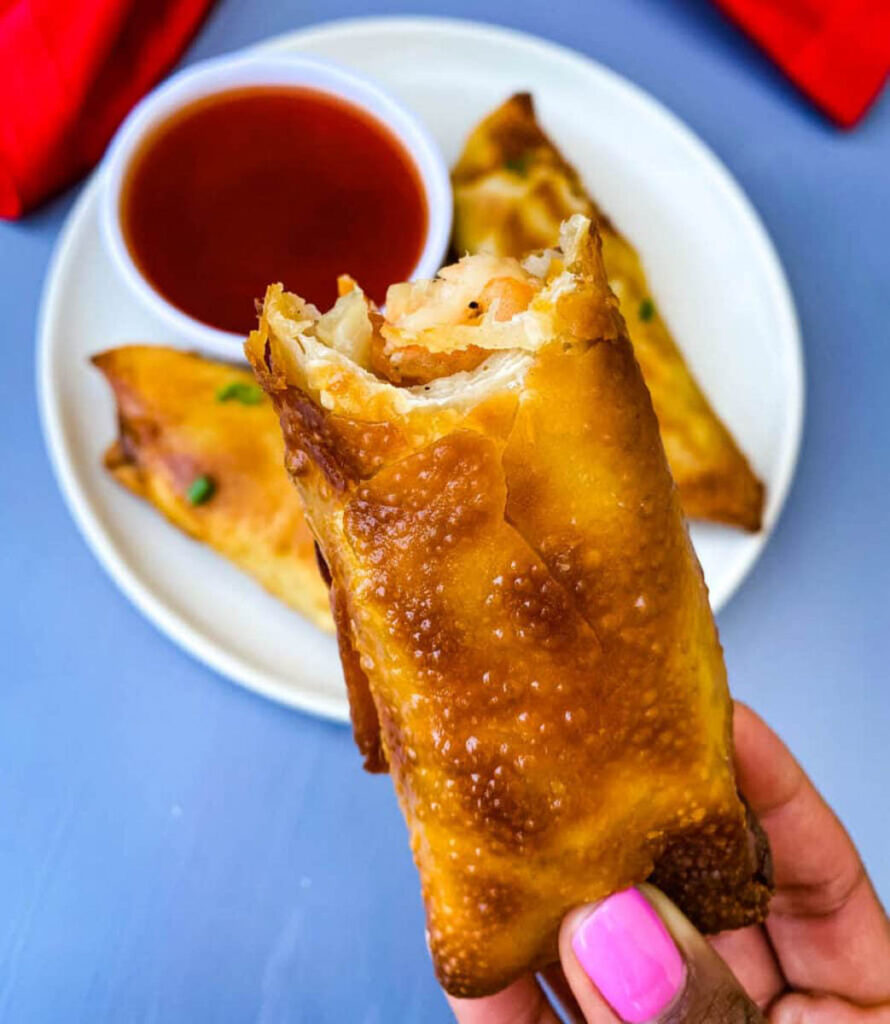 Pair With These Recipes
Air Fryer Bacon Wrapped Asparagus
Fried Potatoes and Onions
Slow Cooker Crockpot Mashed Potatoes
Steakhouse Creamed Spinach
Roasted Ranch Potatoes
More Seafood Recipes
Grilled King Crab Legs
Spicy Shrimp Tacos
Shrimp Burgers
Smoked Shrimp
Baked Cod in Foil
Salmon Fried Rice
Seafood Lasagna
Maple Glazed Salmon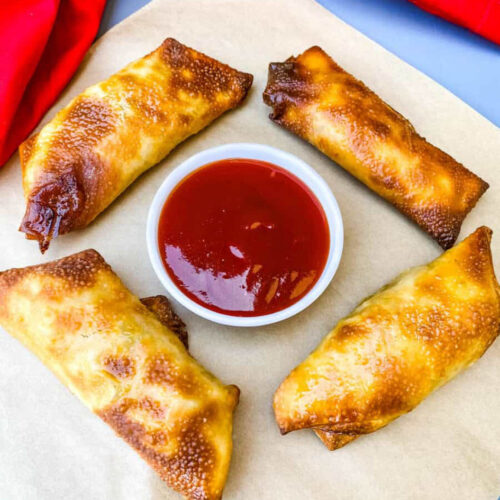 Shrimp Egg Rolls
These Shrimp Egg Rolls are made with a mixture of diced shrimp, shredded cabbage, carrots, garlic, zesty spices, soy sauce, and sesame oil, and then wrapped and baked or air fried to perfection. This crispy dish can be served as a main dish or appetizer.
Ingredients
1

pound

raw shrimp

Peeled and deveined and roughly chopped into 1 inch pieces.

salt and pepper to taste

2-3

garlic cloves minced

3

cups

coleslaw mix

1

tablespoon

soy sauce or liquid aminos

1

teaspoon

fish sauce

See notes.

1 1/2

teaspoons

sesame oil

1/2

teaspoon

ground ginger

You can use up to a tablespoon of fresh ginger

2

green onions chopped

12-14

egg roll wrappers

Some egg roll wrap brands are really thin. You may need to double wrap your egg rolls.

1

small cup water

cooking oil

I use olive oil.
Instructions
Place a skillet on medium-high heat and spritz with cooking oil.

Add the shrimp chunks to the pan along with the salt and pepper to taste.

Saute for 3-4 minutes until the shrimp is bright pink. Add the garlic to the pan and cook until fragrant.

Remove the shrimp and garlic and set aside.

Add the coleslaw mix to a large mixing bowl along with the cooked shrimp, soy sauce, fish sauce, ginger, sesame oil, and green onions. Mix. Allow the shrimp mix to cool before loading it into the egg roll wrappers.

Lay the egg roll wrappers (diagonally) on a dry, flat surface. Some egg roll wraps are really thin and flimsy. Monitor yours to determine if you may need to double wrap the egg rolls.

I like to glaze the edges of each wrapper with a small amount of water. This will make them easier to roll. I use a cooking brush. You can also use your fingers.

Place 2 tablespoons of filling into the center of each wrapper. Seal and close the wrapper diaganally to form a triangle. Fold two opposite corners together to make a triangle, fold the sides in and then roll tightly. Use additional water if the wrapper becomes tough to roll. Repeat for each egg roll.
Baking Instructions
Preheat oven to 425 degrees.

Line a sheet pan with parchment paper.

Place the egg rolls on the pan and spritz them with cooking oil.

Bake for 10-15 minutes until golden brown.
Air Fryer Instructions
Spray the air fryer basket with cooking oil.

Add the egg rolls to the basket. Do not stack or crowd the basket. Cook in batches if needed.

Spritz the top of the egg rolls with cooking oil.

Air fry on 400 degrees for 7 minutes.

Open the air fryer and flip the egg rolls. Cook for an additional 3-5 minutes or until crisp. Every air fryer brand will cook at varying speeds. Monitor your egg rolls to determine the appropriate time needed for your batch.
Notes
For each egg roll, I usually add 2 tablespoons of filling and then another 1/2 tablespoon of just the slaw from the filling.
You can create your own coleslaw mix using shredded cabbage and carrots.
All egg roll wrappers are not the same. I have often used wrappers that fell apart while rolling or were just too thin. If this is the case for you, double wrap the egg rolls and use two sheets when you start add the filling and wrap.
You can use precooked shrimp if you like.
You can omit the fish sauce if you wish and try using more soy sauce or salt.
Nutrition
Serving:
1
egg roll
Calories:
219
kcal
Carbohydrates:
33
g
Protein:
13
g
Fat:
2
g