These Grilled King Crab Legs are served tender, juicy, and slightly charred. Grilling will infuse a nice flavor into the meat and enhance the taste. Serve this with our homemade garlic lemon butter dipping sauce.
This post contains affiliate links. Please read my full disclosure here.
What Are King Crab Legs?
King crab legs have a very prickly shell. They are large in size and are typically sold individually (by the leg) in pounds. The meat is a little more delicate and sweeter. They are a lot more expensive than snow crab.
King crab legs are often boiled or steamed, but can also be grilled, baked, or sautéed. They are typically served with butter or lemon for dipping and can be enjoyed as an appetizer or as a main course.
Why Grill Them
I love to grill them because they are so large, a grill is the only place they will easily fit (outside of the oven of course). Grilling king crab legs can be a great way to add some smoky flavor and char to the crab legs while keeping the meat inside moist and tender.
Grilling is a quick and easy method that allows the crab legs to cook quickly, so the meat stays juicy and doesn't dry out. This method also gives you a chance to infuse them with other flavors such as herbs, garlic, and butter. Some people also enjoy the slightly smoky flavor that grilling can add.
Overall, this is a great alternative cooking method and can add a unique and delicious flavor to them in comparison to steamed or baked.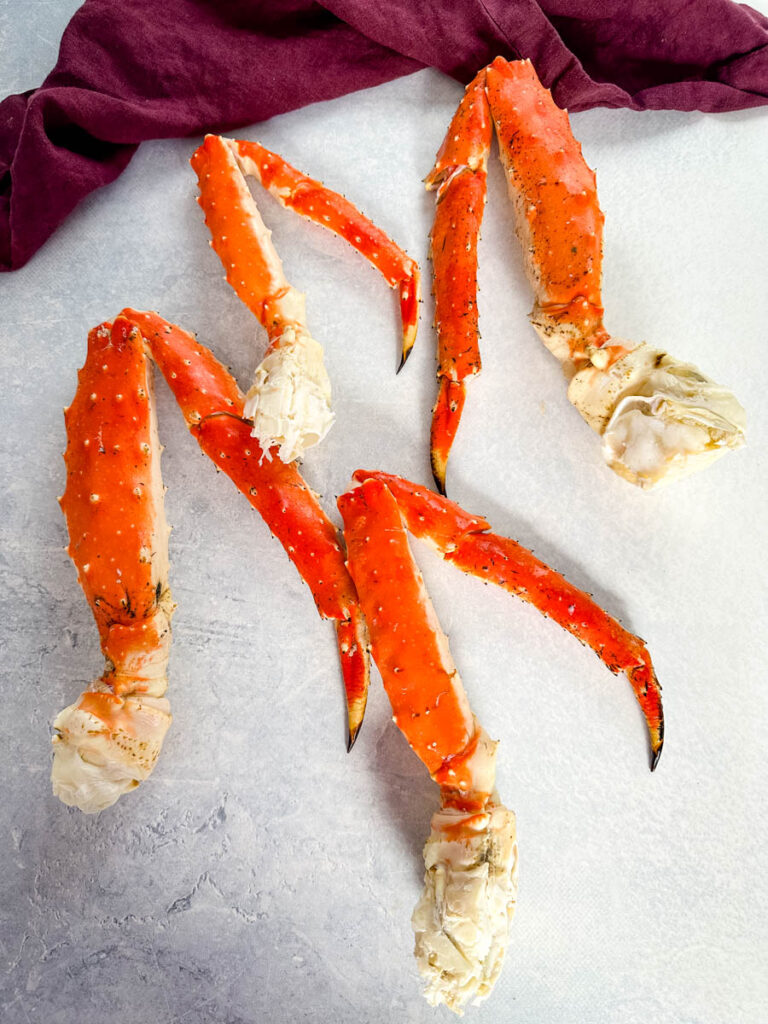 The Difference Between Snow Crab and King Crab Legs
Snow crab legs are sold in clusters and typically by the pound. They are much easier to handle and crack because they have a smooth shell. There are usually at least 4 legs in each cluster. King crab is usually sold in bundles of 1 or more legs.
King has a sweeter and more delicate flavor than snow crab. It is also considered to be more succulent and tender.
King crabs can grow up to 6 feet across and can weigh up to 18 pounds, while snow crabs are typically smaller and weigh around 1-2 pounds. Snow crab meat is white to light pink in color, while king crab meat is a deeper red.
Snow crab is harvested year-round, but king crab is typically harvested in the fall and winter. Both can be cooked in a similar way, but king crab legs are usually larger, so they will require more time to cook.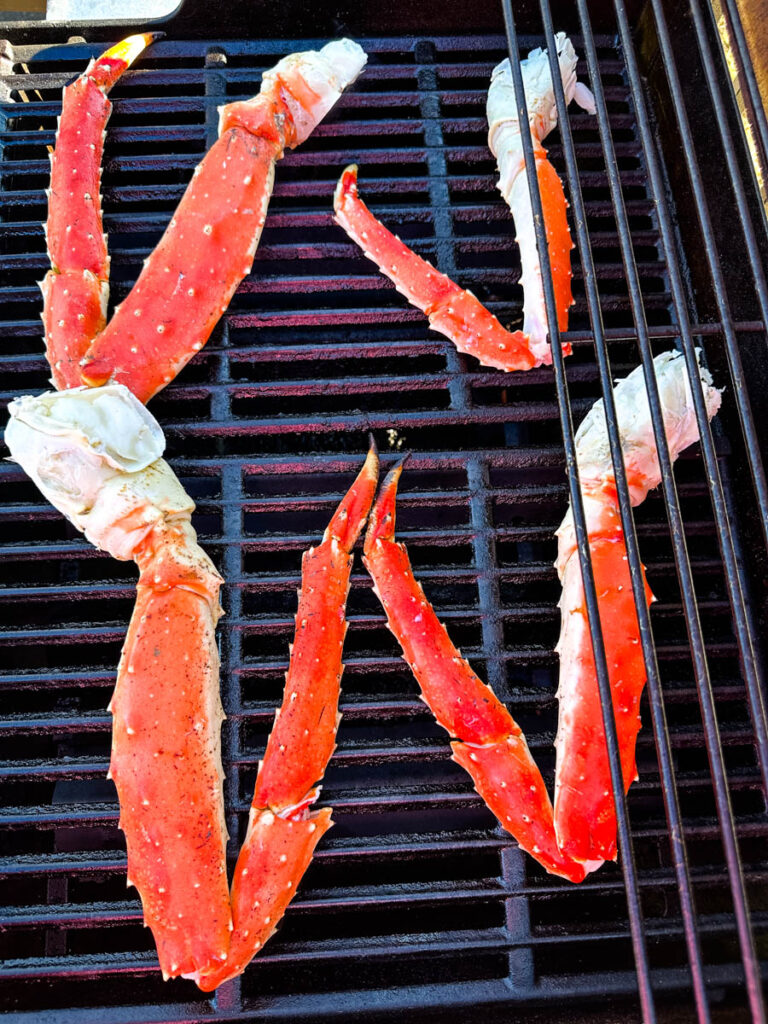 How to Buy and Shop
Most crab will come precooked and often frozen. Sometimes, if it's sold thawed, then it has been thawed from frozen. After the crabs are caught they are cooked on the boat and then flash-frozen right on the spot. If the crab legs are orange or red in color when you bought them, then they have already been cooked. This process is reheating them.
How to Grill King Crab Legs
Full detailed instructions are below in the recipe card.
Preheat grill.
Place the crab legs on the grill.
Grill.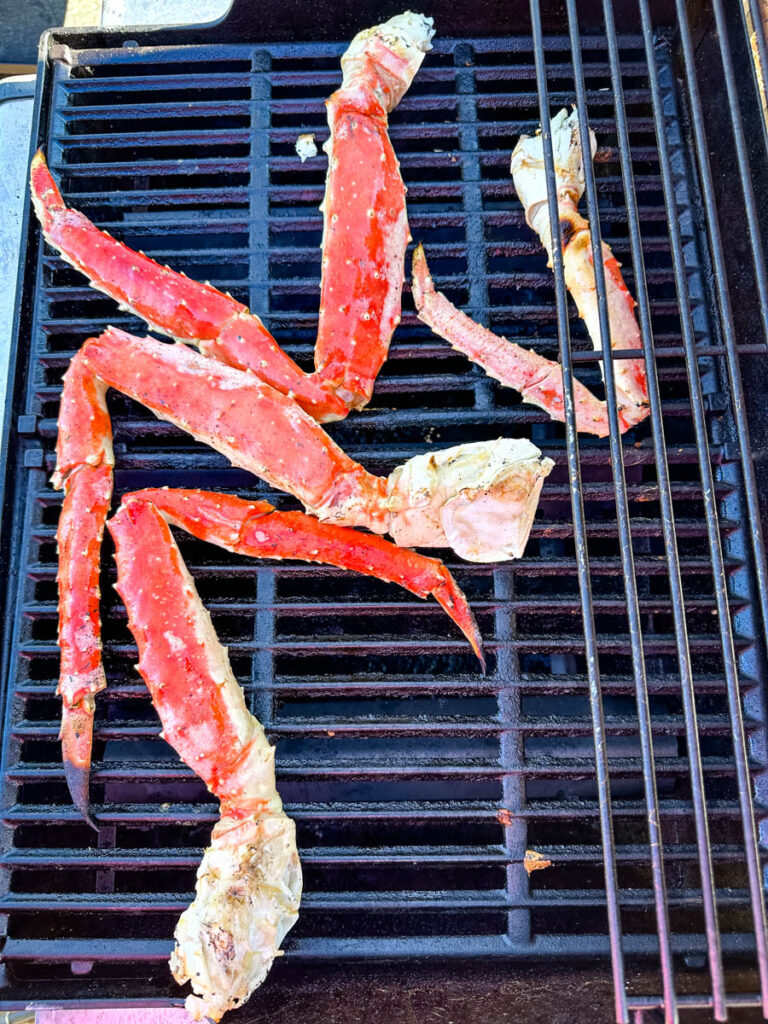 How to Know When They are Done
Crab should be cooked until the flesh is pearly or white, and opaque. You won't be able to tell much by the outside color, because when you bought them they were already pre-cooked and orange. Examine the shoulder (this is the large white part of the cluster). It should be pearly white.
Check out our post on How to Cook Crab Legs.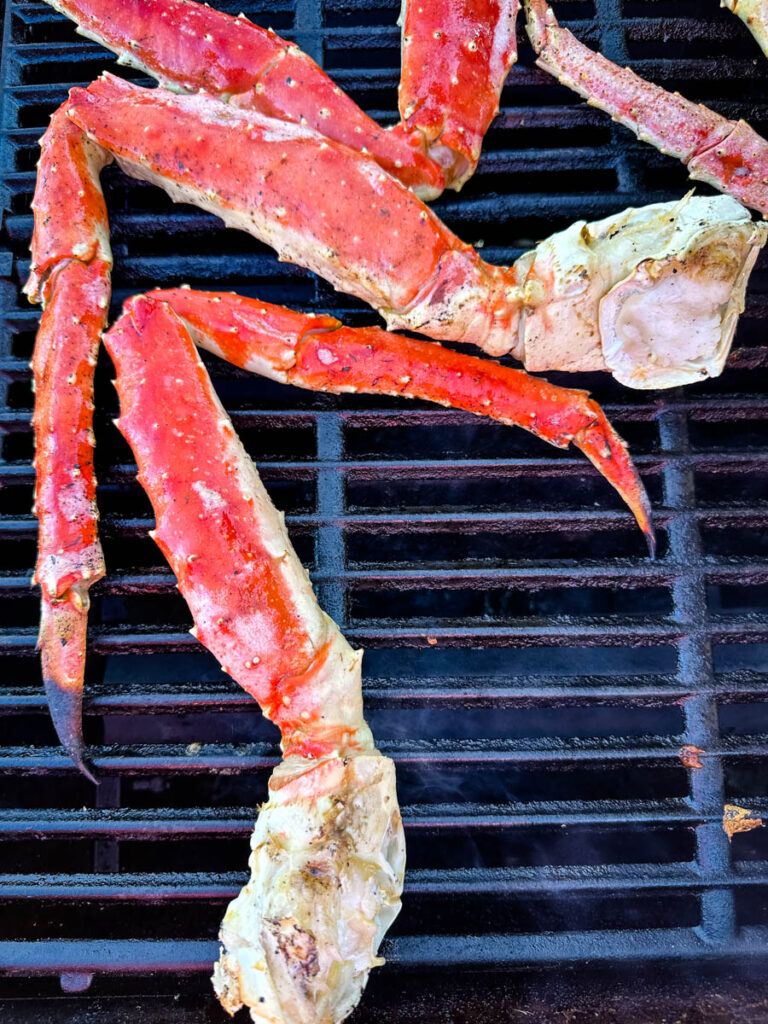 How to Thaw
You can thaw them in the refrigerator overnight (at least 8 hours). You can also put them in a bowl and run cool water over them to thaw quickly.
Frozen Crab
The crab defrosts quickly in water. I don't recommend grilling while frozen.
Do Not Overcook
When grilling crab legs, it's important to keep them on the grill for a short period of time, usually for about 4 to 7 minutes each side (for king crab), and to be careful not to overcook them. Grilling at medium-high heat is recommended to prevent over-cooking.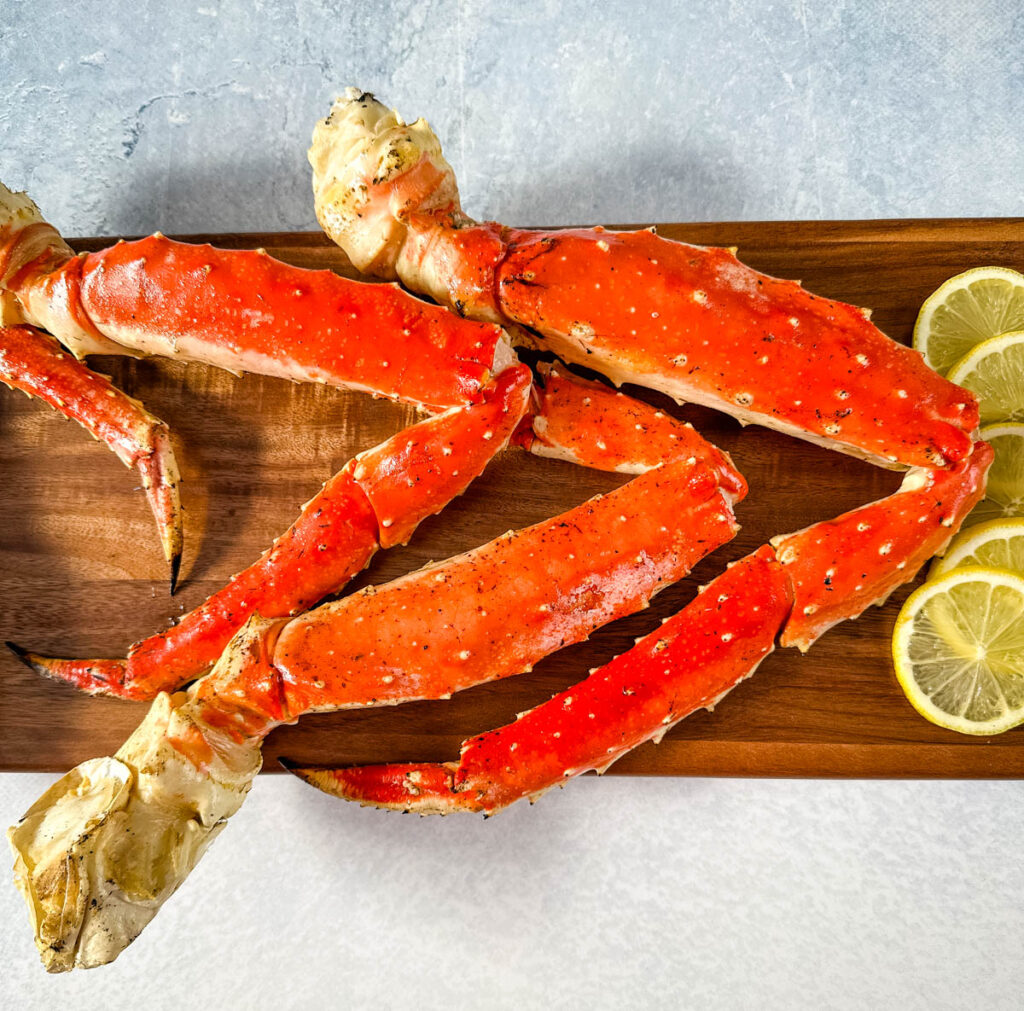 How to Plan How Much You Need Per Person
You should typically plan for 1 1/2 pounds of crab per person. 2 pounds a person is great to be sure you have enough.
How to Split and Crack Them
You will need a sharp pair of kitchen shears or a heavy duty knife. I use these shears from Amazon.
Place the crab leg on a cutting board or other hard surface.
Hold the leg with one hand and use the other hand to snip through the shell with the shears along the underside of the leg, cutting through the joint.
Twist the top of the leg to separate it from the bottom section.
You can then use a fork or crab cracker to remove the meat from the shell.
Be sure to be careful when cutting and twisting the legs to avoid injury.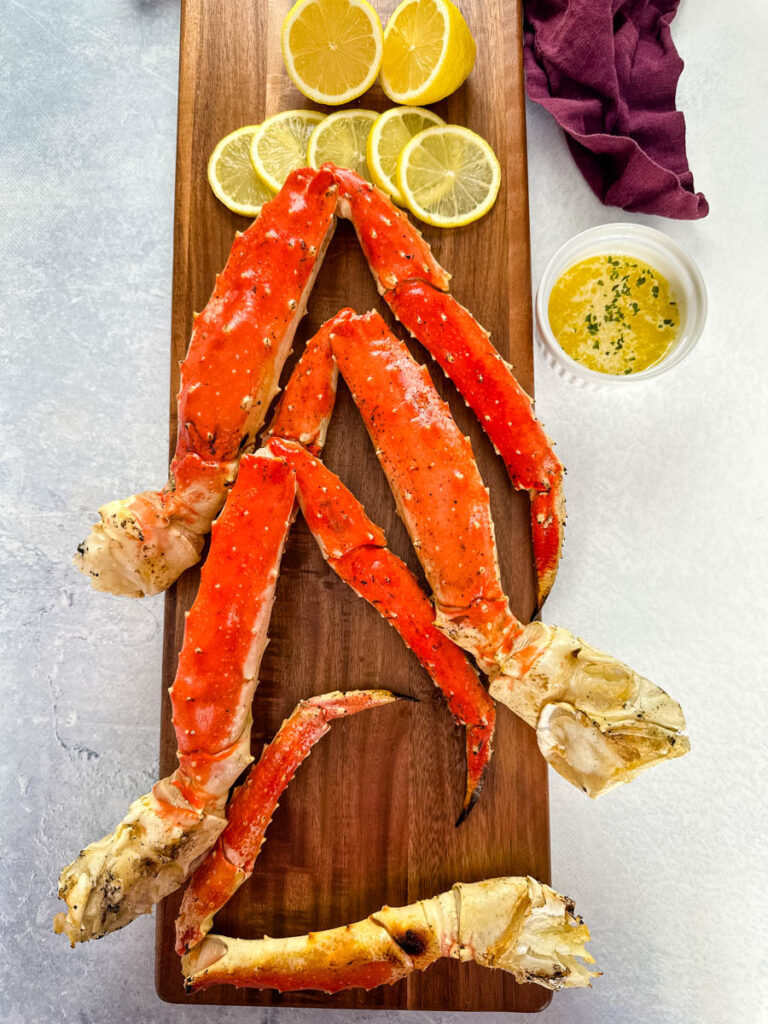 How to Reheat Them
I don't reheat them. I love to serve these with warm butter and that provides the temperature adjustment I need. If you know you want to eat more of them later, crack them first. The longer they sit, the harder they are to crack and the meat gets trapped inside.
If you must reheat them, saute them in a pan with oil or butter until warm.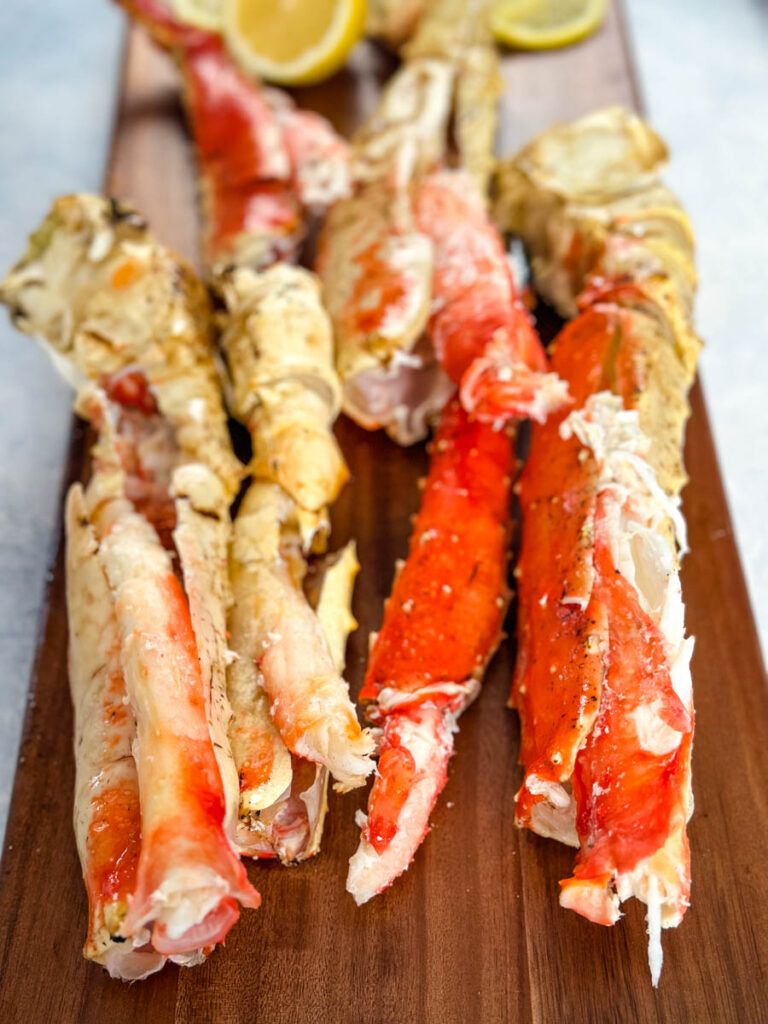 Pair With These Recipes
Grilled Asparagus in Foil
Steakhouse Creamed Spinach
Smoked Sweet Potatoes
Slow Cooker Crockpot Mashed Potatoes
Roasted Brussels Sprouts with Garlic
More Seafood Recipes
Baked Cod in Foil
Dungeness Crab Legs
Salmon Fried Rice
Seafood Lasagna
Maple Glazed Salmon
Creamy Crab Bisque
Crab Risotto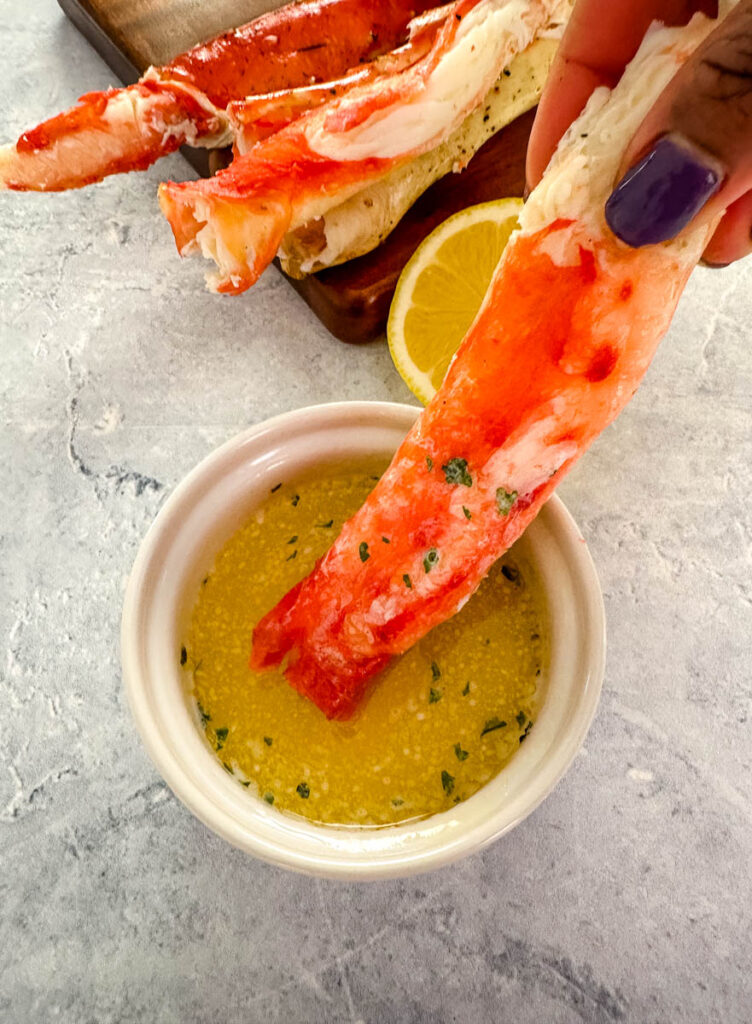 For immense garlic flavor, you may love Air Fryer Roasted Garlic for use in the dipping sauce.
I love to pair these with my Homemade Seafood Stock recipe.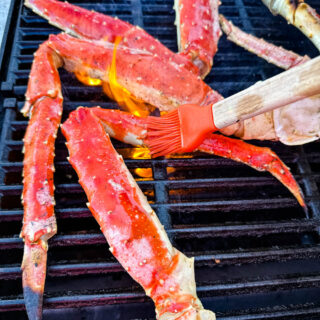 Grilled King Crab Legs
These Grilled King Crab Legs are served tender, juicy, and slightly charred. Grilling will infuse a nice flavor into the meat and enhance the taste. Serve this with our homemade garlic lemon butter dipping sauce.
Ingredients
Garlic Butter Sauce
3

tablespoons

melted butter

2

tablespoons

fresh lemon juice

2

teaspoons

finely chopped parsley

6

garlic cloves

Minced

1

teaspoon

Old Bay Seasoning
Instructions
Preheat grill to medium-high, 350 degrees.

Place the crab legs on the grill. Grill for 5-6 minutes on each side.

Cool before you split the crab legs. Cut the crab legs open using cooking shears.
Garlic Butter Sauce
Combine all of the ingredients in a bowl and stir. Serve for dipping sauce or brush the butter over the crab.
Notes
You can use snow crab legs or king crab legs. Snow crab legs cook for 3-4 minutes on each side.
Adjust the spices and seasoning to suit your taste.
Some people feel like brushing the garlic butter sauce and seasoning onto the crab legs makes it more of a messy experience. It does. Feel free to skip this step and use the ingredients as a dipping sauce.
Nutrition
Serving:
1.5
pounds
Calories:
490
kcal
Carbohydrates:
4
g
Protein:
65
g
Fat:
23
g